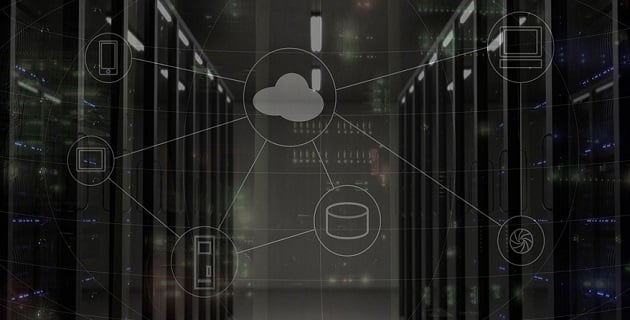 The trend of the Gig Economy has begun in the Recruitment industry. Similar to the contingent market, the Gig Economy environment comprises of transitionary workers, independent contractors, and SOW consultants.
Staffing Industry Analysts (SIA) have adopted a synonymous term "human cloud" which consist of the companies that can facilitate direct, digitally enabled work arrangements, from sourcing a worker through payment.
The Human Cloud is a subset of the Gig economy, a category where unutilised assets are leased in short term transactions via a matching technology platform. In the case of human cloud companies, the unutilised assets are workers.
It enables hirers to find independent workers, typically contingent in nature who can work remotely and through online marketplaces.
Focusing on it SIA has published the third iteration of their report "The Gig Economy and Human Cloud Landscape" highlighting the market evolution, marketing sizing and major players of the industry.
The Human cloud companies are distinguished generally by the following particulars:
1. Flexibility in working time and hours
2. Enabling person-to-person transaction through internet devices
3. Rely on user-based ratings
4. Usually, expect workers to utilise their equipment for work
5. Sourcing the payment to workers through their preferred platforms
Models of Human Cloud Platform:
This platform comprises of three models viz. online staffing platform, online work services, and crowdsourcing.
The online staffing human cloud model specifically hires contingent workers to complete and transact work through digital platforms whereas the online work service model delivers certain specialised services performed by the worker and managed by the platform provider. Crowdsourcing is a well-established model that enables work assignments performed by a widespread "crowd" of independent workers who work at their will.
Connection between the Human Cloud and the Gig Economy
The Gig economy is a broader term compared to the human cloud as it not only represents contingent work performed by those in the human cloud but also the work done by temporary workers, independent contractors, SOW consultants, and other temporary workers.
The technology companies that allow individuals with underutilised assets to rent them out to other individuals and completes transaction online is called "sharing economy". The human cloud is a subset of the Gig economy and the only part of the contingent market that is included in the sharing economy.
The below diagram illustrates the relationship between the Human Cloud and Gig Economy: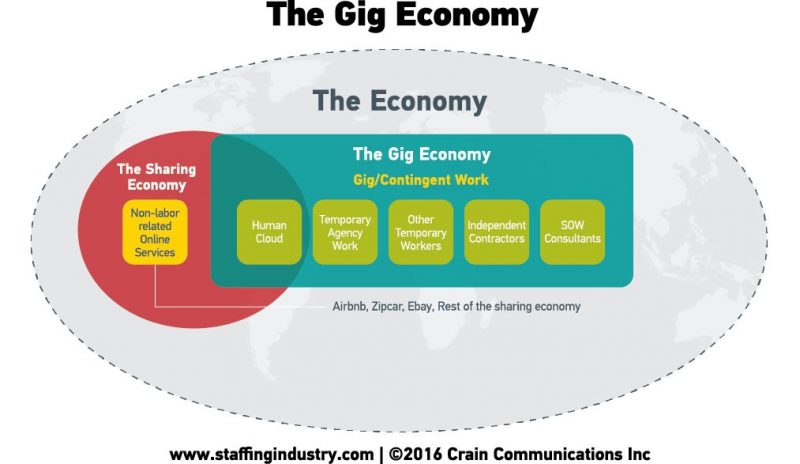 Although it evolved in 1994 the human cloud concept had slow growth due to internet penetration, slow internet speed, and non-existence of the slow emergence of mobile devices such as smartphones. The mid-2000's it saw the incursion of online staffing and crowdsourcing businesses as internet businesses grew in popularity. Despite a drop in new companies, the sector revenue nearly doubled last year, mostly due to continuous surges by consumer ridesharing giants Uber, Didi Chuxing and Lyft.
Related: The Gig Economy – what does it mean for Recruitment Agencies
Like all emerging sectors, several firms went out of business or were acquired, while some high-profile firms were successful in raising additional capital.
So does this mean the Gig economy has run its course and companies are susceptible to failure?
SIA has prepared the third iteration of Staffing Industry Analyst's annual "bottom-up" look at the state and evolution of the human cloud which includes a list of the largest human cloud platforms by total spend, as well as spend estimates for various categories, such as by human cloud segment, work completed on site/remotely, and spend on B2B/B2C.
Corporate members can download the report here.
SIA are seeing evidence that the foundation upon which human cloud firms are built is both sustainable and profitable. They suspect that current contingent work force management models will begin adopting the changing technology, either by necessity or by choice, as human cloud providers have changed their mindset to an enhanced focus on profitability.
Staffing Industry Analysts is the global advisor on contingent work. Known for its independent and objective insights, the company's proprietary research, award-winning content, data, support tools, publications, and executive conferences provide a competitive edge to decision-makers who supply and buy temporary staffing. In addition to temporary staffing, Staffing Industry Analysts also covers related staffing sectors.
Staffing companies and their suppliers benefit from personalised intelligence, research, proprietary tools and advisory services from SIA's expert analysts that are included with Corporate Membership. Corporate members receive legal/regulatory updates, market forecasts, financial/operating benchmarks and briefings on key economic and financial indicators.
For additional information on Corporate Membership and to receive special HHMC membership offers, read more here.