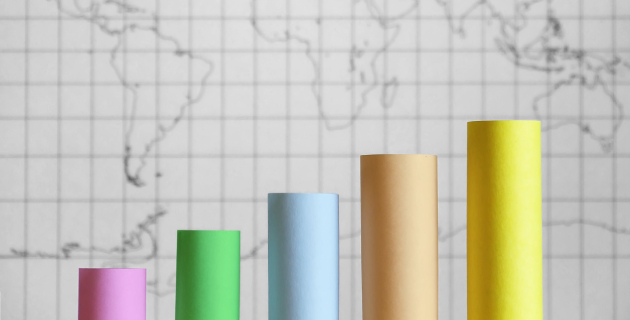 Staffing Industry Analysts (SIA), the global advisor on staffing and workforce solutions, earlier this week released its 2016 report on the Largest Global Staffing Firms. The report features the top 100 staffing and recruitment firms worldwide ranked by their 2015 revenue.
"The companies included on this year's list comprise a combined turnover of $186 billion," said SIA President Barry Asin. "With the global staffing market generating revenues of approximately $410 billion in 2015, these firms represent an estimated 45% of total global revenue."
The top five companies rank in the same order as they did in last year's version of this report, with Adecco leading the list, followed by Randstad and ManpowerGroup. Allegis, the largest privately owned staffing firm, ranked fourth, while the Japan-based Recruit was number five.
The 5 largest global staffing firms are: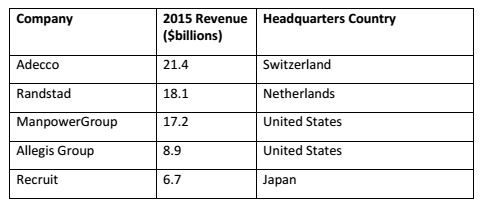 Notable among the changes this year, EmployBridge jumped from its prior year position at 42nd into 10th, following its merger with the Select Family of Staffing Companies, previously 14th in the ranking. The highest ranked new entry on the list is the UK-headquartered Independent Clinical Services (68th), followed by Strategic Workforce Solutions.
Related: Recruitment Firms Who Plunge into the Valley of Death
Speaking about the report Adam Pode, Director of International Research at SIA, said "There was plenty of M&A activity, with six companies leaving the list in 2015 because they have been acquired. This has continued into 2016 with Recruit and Randstad buying USG and Proffice respectively; as well as with Air Energi and Swift merging and t-group being acquired by Gilde Buy Out Partners."
A total of 11 companies fell out of the rankings this year due to revenue size (4), acquisition (6) or merger (1). Of the firms taking these spots, all but one- an Italian firm- are US or UK-based.
Among the top 100 firms, 49 on the list are headquartered in Europe, 39 in North America and one in Africa. Although a vast majority of companies are operating in multiple countries, the list includes some which operate exclusively in a single market, such as CIIC in China.
Know more about the Global SIA's Largest Staffing Firms in 2016 and read insightful statistics.
The full Largest Global Staffing Firms 2016 report is available for SIA's Corporate and CWS Council Members. To find out more about SIA's Corporate Membership click here