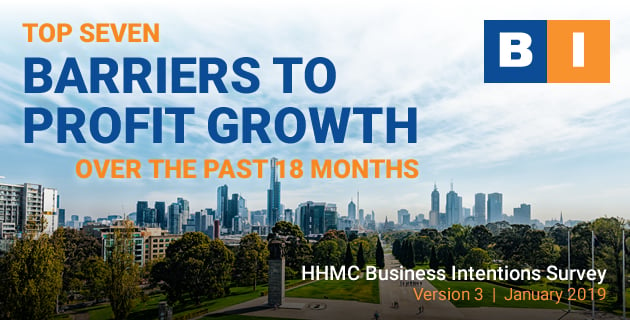 Since the HHMC Business Intentions Survey began these 7 profit growth barriers have been at the top when viewed across all companies.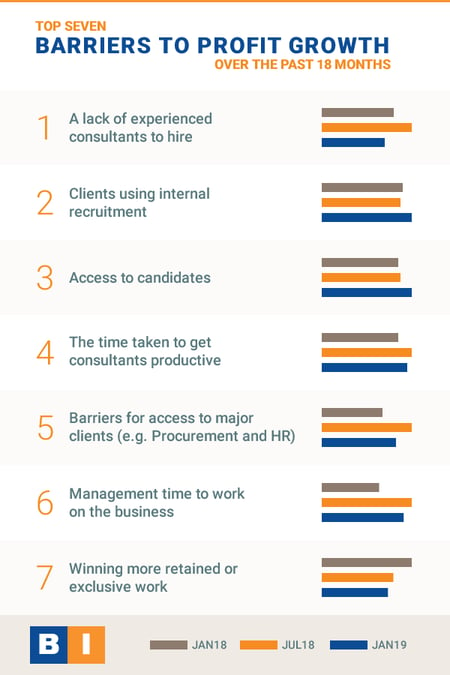 However, there are slight variations across recruitment agencies of different sizes. Larger companies are focused on issues around attracting consultants and making them productive as quickly as possible. A Lack of Experienced Consultants to Hire and The Time Taken to get Consultants Productive are their top two barriers.
Related: 6 Profit Growth Opportunities to Maximise Your Business
Smaller companies have a greater focus on winning work, with Clients using Internal Recruitment their top barrier, Barriers for Access to Major Clients comes in as barrier number four and Winning More Retained or Exclusive Work as number five.
Smaller Company Analysis
Further analysis of small companies (61% of total responses) has been undertaken by Paula O'Connell of Oconsult and included in the report. It clearly shows the variation of issues across industry sectors and provides lessons for owners and managers – what works for one company in one sector may not work for another. The issues are different and the strategies to address the issues will also need to be different.
Further Information
HHMC's Business Intentions Survey Report Version 3 published in January 2019 is available for free download here
If you have any questions or comments or would like additional information on HHMC and its services please contact us