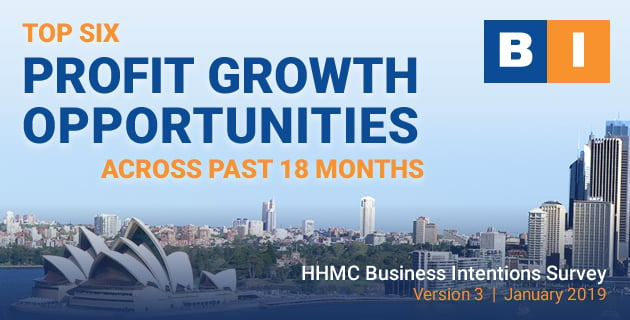 Since the HHMC Business Intentions Survey began these six opportunities for profit growth have been at the top when viewed across all companies.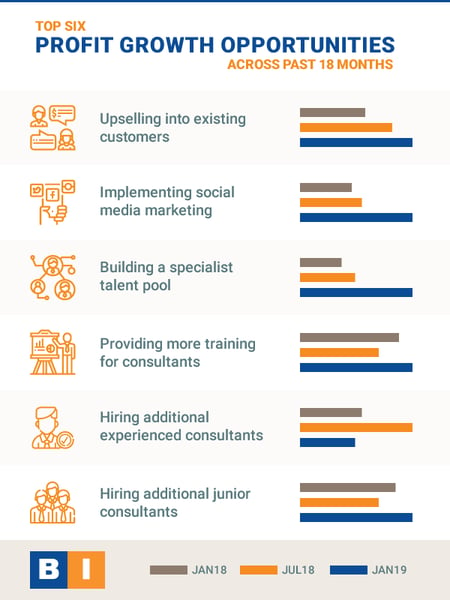 Larger companies had a different ranking of priorities, with Hiring Additional Junior Consultants and Providing More Training for Consultants taking the top two positions and reflecting the massive shortage of experienced consultants available to hire. Also making it into this groups top list is Implementing HR Technology into The Business, possibly reflecting the type of work and business relationship these larger companies have for the delivery of services and the need for continuing internal efficiencies.

There are slight variations across companies of different sizes. For smaller companies (1-10 in size) Increasing Charge Rates made it into the top group.
Related: 7 Barriers to Profit Growth of Recruitment Businesses
Opportunities to watch
Three opportunities that started well down the list but have shown greater interest from survey respondents each survey are Outsourcing Back Office Processes, Outsourcing Recruitment Processes, and Selling Recruitment Solutions (such as RPO, MSP).
Outsourcing Back Office
Processes

Outsourcing Recruitment
Processes

Selling Recruitment
Solutions

HHMC has always been an enthusiast for outsourcing as we believe it is a strategic option sharpens the managers mind about who does what and how well processes are really defined and measured. Other markets, such as the USA and the UK, are well ahead of Australia and New Zealand in this area – maybe local agencies are finally catching up in looking at how this strategic opportunity can be applied to their business.
We have also been enthusiastic of strategies that introduce services and reduce the reliance of hard to find 360-degree recruiters. The easiest service for most recruitment agencies to discuss with their clients appears to be some form of Recruitment Process Outsourcing. As the recruitment market changes, opportunities for transactional job orders are reducing.
Further Information
HHMC's Business Intentions Survey Report Version 3 published in January 2019 is available for free download here
If you have any questions or comments or would like additional information on HHMC and its services please contact us