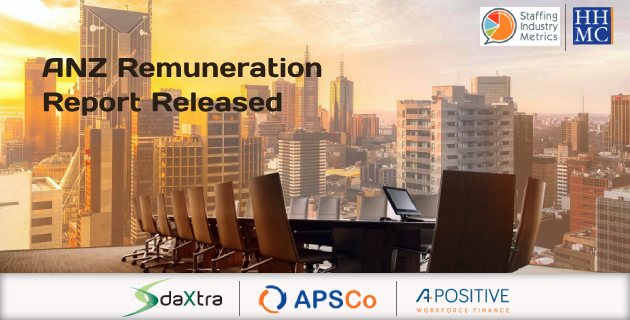 HHMC Global and Staffing Industry Metrics have launched the ANZ Remuneration dashboard and Report which provides essential staff planning and budgeting information for all businesses in the staffing and recruitment industry.
The comprehensive sets of data details remuneration data for 27 recognised job titles ranging from CEO's to recruitment consultants to key back office functions.
For each job category the following data is provided:
Remuneration, consisting of base salary and superannuation
Bonus components of the package including superannuation
Total package value including remuneration plus bonus
Bonus as percentage of package
The report expands this core data with further analysis relating to hiring, engaging and developing staff in the recruitment industry. For example, staffing level growth and turnover where the recruitment agencies that participated in the survey achieved a commendable average annual growth rate of 5% which included 36% of departures with the hiring rate of 41%.

Additionally, the report includes data from APSCo's Staffing Trend program with Burning Glass Technologies providing insights into demand for talent in the Australian market.
Even more is available for participants in the survey. Participants gain access to the ANZ Remuneration Dashboard gives you access to remuneration metrics 24/7 providing specific analysis of your company to the benchmark. The benchmark is updated throughout the year giving live feedback to participants, while the report provides an annual snapshot.
The ANZ Remuneration Survey Dashboard and Report has been made available with the support Daxtra, APositive Workforce Finance and APSCo Australia.