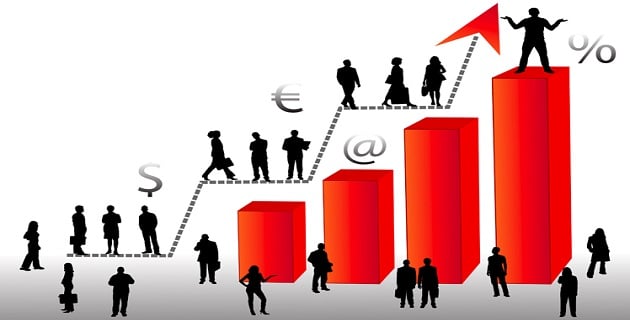 The challenge of course is that there are not enough quality experienced consultants to meet demand, let alone all the other strategic attributes required to develop and sustain a high-performance environment.
Business Intentions Survey
HHMC's Business Intentions Survey for the Asia Pacific Recruitment Industry continues to show that recruitment agencies rank "hiring additional experienced consultants" as a top opportunity for profit growth. Who doesn't want to find a high-performance recruitment consultant to add to their team.
Larger and medium sized recruitment agencies ranked this as their top opportunity for profit growth, and smaller companies ranked this third. It is surprising that this is a top strategy when there are skill and experience shortages, a wages explosion, and many countries (including Australia) are making it more difficult to recruit consultants from overseas.
The same survey ranks "lack of experienced consultants to hire" as a top barrier to growth so the challenges are known. Larger and medium sized companies ranked this as their number one barrier to profit growth. Recruitment agency leaders know that quality experienced recruitment consultants are not available in the market. The irony seems lost on the survey respondents, but we appreciate their honesty.
Breaking Through Growth Barriers
We have often written about the natural phases that a recruitment agency transitions through as it grows.
A business that has up to about 20 staff is most often able to operate in a manner that is under the span of control of the founders. The founders are mostly responsible for sales generation, team leadership and internal recruitment, in addition to strategic and financial responsibility.
A business that wants to successfully break through this size and create a larger entity with greater capability and greater equity value needs to break down and reinvent these attributes. Most importantly, a leadership team needs to be developed and empowered so the leaders can concentrate "on" the business. The founders cannot be solely responsible for internal recruitment or learning and development – functions need to be developed within the business to excel at this activity and support the leadership team's staff growth activity.
Related : Staff Turnover a Sustainability Issue
We are not suggesting that founders relinquish all involvement in the internal recruitment process. However, if the total responsibility rests with the founders then that activity will rarely be undertaken in an optimum manner, and other important activities such as building the leadership team will be neglected.
As you might expect, this investment in internal infrastructure comes at a cost with Australia's Staffing Industry Metrics benchmarking showing reduced profit performance for companies in the 20-30 and 30-40 person size before recovery from this point on.
HHMC's observations are that companies that try to grow beyond about 20 staff that do not invest in the leadership team and these internal HR functions usually will not succeed in their growth. Most revert to a company size of around 20 staff over time, wasting time and money in a recruitment process that will only lead to high staff turnover, poor performance, and possibly a damaged reputation. We have all seen companies that, excluding external influences like the economy, bounce around between 15-25 staff over a number of years.
To grow beyond 50 staff a recruitment agency then needs to break down existing structures and rebuild itself in different ways. But a staff level of 50 will not be achieved without the attributes to break free from a pure founder-influenced company.
Equity Value – External Assessment
We often talk about the value of a recruitment business being an assessment of the risk of earning future profits. Past profits are interesting, but the value is in the future profits. A buyer of a recruitment agency is seeking to acquire an engine that will deliver profits in the future when under new ownership.
Staff, client and candidate functions that are dependent on the founders will be seen as a potential risk post acquisition. Specifically, if the shareholders are intimately involved in the recruitment, training and performance of the consultants then the business will be rated at a lower value or will not be attractive to the buyer and they will decline to participate in an acquisition process.
This is further emphasised with smaller companies - sub-twenty consultant companies usually cannot command the same equity value as a company that has successfully broken through this size barrier.
Under the harsh glare of an acquisition assessment these attributes of a recruitment agency will be clear to see and cannot be hidden.
Don't Fight Strategic Imperatives
It is clear that the best recruitment agencies in the industry know that the development of new junior staff, or the introduction of experienced staff into the industry, is a critical success factor for their business. It is also the right action for the recruitment industry. As an industry we need to grow our own. As a business you need to devote time and energy to this critical task.
Different recruitment agencies can have different approaches. For some, hiring graduates or near graduates and bringing them into the industry will be an appropriate strategy. For others, hiring experienced resources out of their niche focus areas will give them the domain expertise needed for their recruitment service offerings. Either way, successfully attracting, onboarding, training, coaching, mentoring and rewarding staff is a critical capability that good organisations learn and continuously improve.
For founders a balance needs to be found. As they work more on the business and less in the business, their influence in vision, strategy, culture and promotion of the organisation needs to be maintained. Being actively involved in, but not responsible for, internal recruitment is one way of promoting the company and attracting new staff members that are aligned and motivated to the business you are building.
Article originally published in The Global Recruiter written by Rod Hore