Reviewing the ANZ Recruitment Industry - Continuous growth
Will we look back on the recruitment industry of the 90's through to 2007 as the golden age?
Despite a hiccup in 2001 the industry grew from almost embryonic beginnings to a sizeable, high-growth industry that generated much wealth for its participants. It spawned listed companies, attracted overseas investment, created thousands of jobs within the industry, and assisted in disruptive activities such as the demise of printed advertising.
This period of continuous growth was no preparation for the financial crisis of 2008.
Use of technology, sales sophistication, recruitment models, remuneration models, wages growth, assessment of risk, strategy planning, business funding, and all aspects of acquisitions and divestments have been redefined since the financial crisis. It's been a fast and furious education for business owners and not all have survived.
Read More: Developing Staff a Strategic Imperative to Equity Growth
Australian benchmarking data provided by the RIB Report show the variation of business performance pre and post the financial crisis. And it has to be remembered that the Australian Economy did not dip into recession during this period.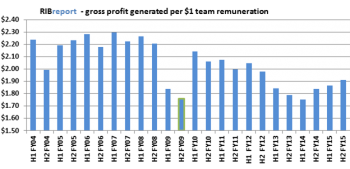 This graph shows the gross profit generated for each dollar of staff remuneration. Financial year 2009 (ending 30th June 2009) reflected the sudden drop off in trading conditions. That recovered reasonably quickly, but it is the poor productivity since the financial crisis that has owners and managers lamenting the good old days.
Today's business owner cannot reply on a rising tide to assist their business. The lessons of the financial crisis need to be kept fresh.
HHMC Global provides advisory services to the recruitment and staffing industry and is best known for its work on M&A transactions. HHMC is based in Australia and works with clients globally. To discuss your business future contact Rod Hore or Richard Hayward.