Equity Value – Current influences on equity value – Industry Is Maturing
10 years ago the internet was the most threatening issue on the recruitment companies' horizon. The fear was that the internet would change the industry for good and recruitment agencies would die.
Instead what happened was that there was a marginal change to the industry. Recruiters used the internet as a platform for their trading. Candidates were easier to register and the searching processing became more effective and efficient.
Recruitment has always been a good bellwether for how an economy is faring, and those in the industry know it's cyclical nature. The recruitment industry was adversely affected by global recession. As we travel through this current economic roller-coaster, it is more than the economic conditions that are impacting recruitment agencies.
There has been a significant shift towards recruitment online; not just advertising vacancies but in the use of social media processes.
Employers are not always utilising agencies. Now they are watching their costs and they know that there are alternative routes to workers.
We've shifted from resumes to online profiles. Social professional networks, like LinkedIn, have changed the way professionals of every age interact and find jobs.
Video technology is rising across the recruitment industry. Visual content, in general, is a rising trend across all industries.
Passive candidates are becoming highly sought after. Typical recruiting methods don't do much for the passive candidate.
The drastic change in the industry environment is something that a lot of businesses are finding hard to thrive on. But the changes listed above only impact the way recruitment is undertaken. Perhaps the biggest industry changes have come from the way that corporate entities manage their recruitment processes:
The ebb and flow of in-house recruitment teams
The continuing rise of Recruitment Process Outsourcing (RPO) for permanent recruitment
The emergence of Master Vendors and then Managed Service Providers (MSP's) to handle large contingent workforces for organisations
The transfer of Statement of Work (SOW) from other industries such as IT and Engineering to the recruitment industry.
The rise of online platforms and the freelancer community
This maturity in the industry has an impact on the acquisitions and divestments that are being undertaken. Private Equity funds and the need for global coverage may be driving acquisitions at the top end of the market, but the impact on small to medium recruitment agencies is the most obvious.
Acquirers of recruitment agencies are carefully assessing risk and making cautious decisions. The challenge is with the smaller recruitment agency to maintain its relevance in this changing and maturing industry.
Technology and systems can help recruiters find and attract quality talent, build a solid talent pool of active and passive job candidates, and stay one step ahead of the competition with innovative recruiting tools and strategies. This, and more, is needed if an agency is to prove its value and show it has a future worthy of investment.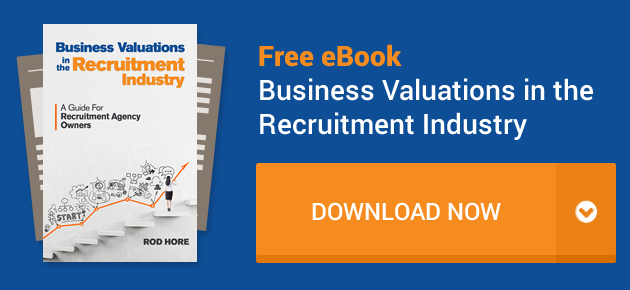 HHMC Global provides advisory services to the recruitment and staffing industry and is best known for its work on M&A transactions. HHMC is based in Australia and works with clients globally. To discuss your business future contact Rod Hore or Richard Hayward.