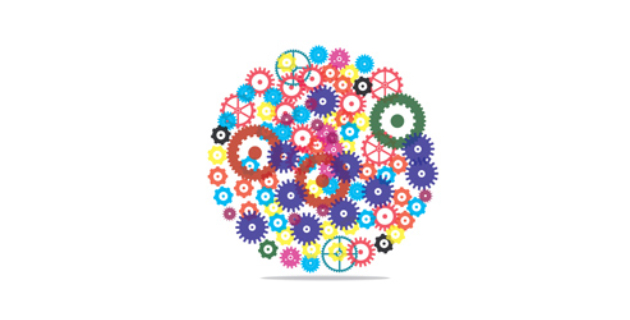 Staffing Industry Analysts has continued to invest in the Workforce Solutions Ecosystem, with minor revisions published in 2016.
"In nature, an ecosystem is a community of living organisms and non-living components interacting as an environmental system. Similarly, businesses operate in a broad and complex network of related and unrelated products and services which interact and compete with each other.
Related: Global Contingent Workforce Management: Coming to a Client Near You
"Workforce Solutions are third-party products and services relating to the sourcing, engagement and development of employed and non-employed (including contingent) workers."
Workforce Solutions Ecosystem
The Workforce Solutions Ecosystem chart highlights interconnected components of the Staffing Industry and other types of Workforce Solutions. It comprises six primary segments:
Staffing
Process Outsourcing
Payrolling/Compliance,
Contracting/Consulting,
Talent Acquisition Technology, and
Other Workforce Solutions
In 2016 "HR Tech" was added to the Other Workforce Solutions segment, and includes a number of different software solutions that can be deployed post-sourcing of workers in order to better manage, engage, and motivate these workers.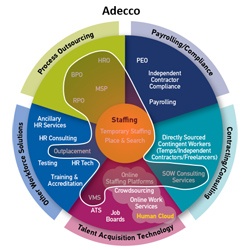 We highly recommend reading the full report to gain clarity around the terminology used. The report also expands the relationship of these segments to each other and the overall economy including the relative market size of each segment.
Largest Company Strategy
It is well recognised that all companies are not following the same path when approaching this changing and expanding staffing industry we operate in. The images of the ecosystem coverage by the largest five companies proves the point: Adecco, Allegis, Manpower, Randstad and Recruit have all approached their strategy in different ways.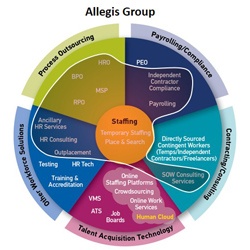 As you would expect, organisations are not standing still but are jostling for position in areas related to staffing to gain competitive advantage. This is reflected in some of the cross-segment acquisitions and investments made during the past period, and these investments are likely to continue:
Camita (BPO) acquired Thirty Three (Ancillary HR Services)
Impellam (Staffing) acquired Bartech (MSP)
Korn Ferry (Staffing) acquired Hay Group (HR Consulting)
Randstad (Staffing) acquired Monster (Job Boards)
Randstad (Staffing) acquired Twago (Online Staffing)
Recruit (Staffing) acquired Simply Hired (Job Board)
Temp Holdings (Staffing) acquired (Ancillary HR Services)
Recruitment agency owners and managers can use the Workforce Solutions Ecosystem when building a strategy for their future. What solutions are your clients looking for? What additional services can your organisation expand into so that you are providing a solution to your client's needs?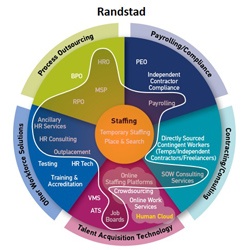 Staffing Industry Analysts is the global advisor on contingent work. Known for its independent and objective insights, the company's proprietary research, award-winning content, data, support tools, publications, and executive conferences provide a competitive edge to decision-makers who supply and buy temporary staffing. In addition to temporary staffing, Staffing Industry Analysts also covers related staffing sectors.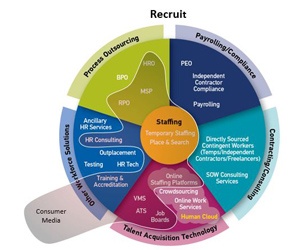 Staffing companies and their suppliers benefit from personalised intelligence, research, proprietary tools and advisory services from SIA's expert analysts that are included with Corporate Membership. Corporate members receive legal/regulatory updates, market forecasts, financial/operating benchmarks and briefings on key economic and financial indicators.
For additional information on Corporate Membership and to receive special HHMC membership offers read more here.