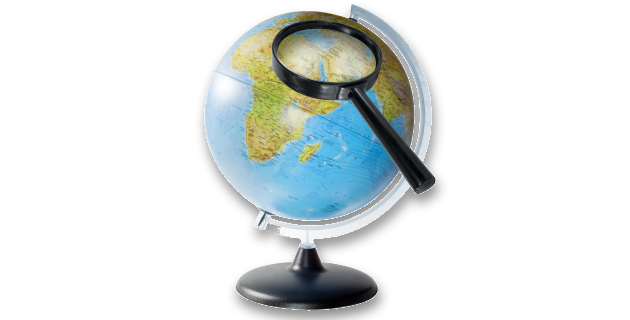 SIA have developed their own methodology for evaluating the potential of each staffing market. They have assessed 60 different staffing markets across six Continents and produced the "Most Attractive Staffing Markets Globally 2017".
Methodology
SIA's methodology provides a structure for understanding different strengths and weaknesses and a template for comparing a wide range of very different markets. Staffing markets have been ranked according to 10 different components, using data from SIA's research as well as economic and other data:
Market Size
Protection of Permanent employees
Regulations on Temporary Agency Work
Ease of Doing Business
Economic Growth
Short-Term Growth
Long-Term Growth
Market Competition
Political Stability
Higher Education and Training
Opportunities
There are many opportunities to develop your business outside your home market – not just in some of the newer emerging staffing markets but also in established markets as well.
Ireland was identified as the most attractive overall and Malaysia as Asia's most attractive market. With Brexit and other global political and economic activity, there is plenty of movement from last year's table.
Related: Staffing markets separated by Pacific share similarities, differences
Not surprisingly, if you think a market is attractive then chances are plenty of other people will as well. If you simply want to go with the crowd, you may find that your growth ambitions will be disappointed. Better prospects may be found in less developed, less crowded markets.
Identifying high-growth staffing markets is only part of the story and will require considerable planning, resources and management expertise to be successful.
Of the markets analysed, Nigeria is the least attractive.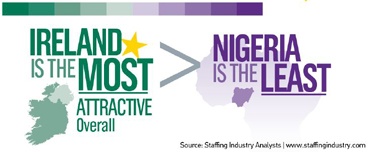 It is stressed that readers should not interpret 'least attractive' as 'unattractive'. All staffing markets have potential if a recruitment agency has the right services/products, the right price, the right sales/marketing strategy and the right personnel. Using SIA's analysis as a framework, you could choose to refine it further for your own purposes by weighting each of the scoring components.
Corporate Members
Corporate members can download a copy of the report as well as the accompanying interactive Market Attractiveness Assessment Tool. The Market Attractiveness Assessment Tool allows users to conduct their own assessment based on the indicators that they perceive as more relevant to their business case as well as to assign custom weighting to all scores.
Staffing Industry Analysts is the global advisor on contingent work. Known for its independent and objective insights, the company's proprietary research, award-winning content, data, support tools, publications, and executive conferences provide a competitive edge to decision-makers who supply and buy temporary staffing. In addition to temporary staffing, Staffing Industry Analysts also covers related staffing sectors.
Staffing companies and their suppliers benefit from personalised intelligence, research, proprietary tools and advisory services from SIA's expert analysts that are included with Corporate Membership. Corporate members receive legal/regulatory updates, market forecasts, financial/operating benchmarks and briefings on key economic and financial indicators.
For additional information on Corporate Membership and to receive special HHMC membership offers read more here.