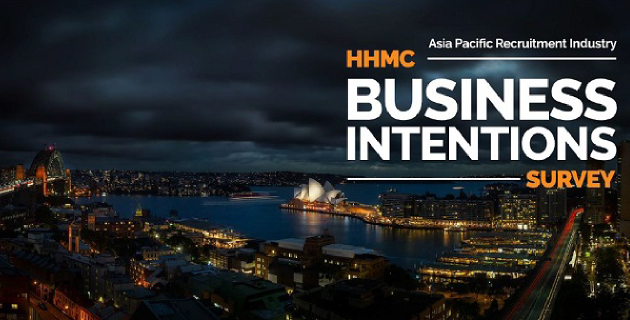 HHMC Global last week released the results of our first Business Intentions Survey. Reviewing the current climate of the Asia-Pacific recruitment industry, we surveyed owners and managers of recruitment businesses on their level of confidence and future intentions.
The survey report allows owners and managers of recruitment businesses to:
Understand the successes and challenges other recruitment agency owners and managers are facing in the Asia Pacific Region.
Learn what companies like yours are including in their strategy.
Understand how actual benchmark results compare to intentions.
Compare intentions in the Asia Pacific region with those in the important North America and Europe regions.
The survey report discusses changes in revenue over the past six months in the recruitment industry where we have seen revenue growth in services such as RPO, SOW, MSP, unbundled recruitment and HR Consulting.
The report also focuses on M&A market updates, growth opportunities and barriers, succession and exit planning, staffing industry metrics and implications of micro businesses, with valuable contributions from Staffing Industry Metrics and O'Consult.
HHMC Global is pleased to provide the Business Intentions Survey Report free of charge, available to download here.