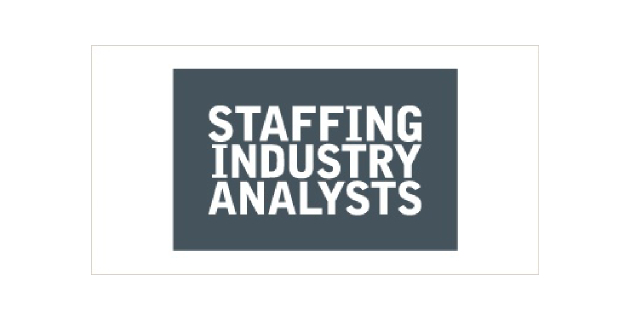 This report "Insights from Fast-Growing Industrial Staffing Firms" published March 2015 showcases seven industrial staffing firms that ranked near the top of Staffing Industry Analysts 2014 Fastest-Growing U.S. Staffing and Talent Engagement Firms report.
The seven staffing firms grew their revenue at an average organic compound annual growth rate (CAGR) of 43% from 2009 to 2013 compared with a 13% CAGR for the US industrial staffing segment as a whole. All seven firms service the manufacturing industry as a major focus, while five firms service the distribution/logistics sector. This mix of client industries is in line with the industry proportions of the total US industrial staffing segment.
Related: Growing by Acquisition
The seven firms have a bullish outlook on both the manufacturing and distribution/logistics industries, which bodes well for the growth expectations in 2015 in the overall industrial staffing segment. Skill shortage of skilled trades workers is driving growth in orders for these roles. Several firms expect secular decline for "low-skilled jobs." The CEOs of these firms described a variety of competitive differentiators that were the foundation of their successful growth strategy.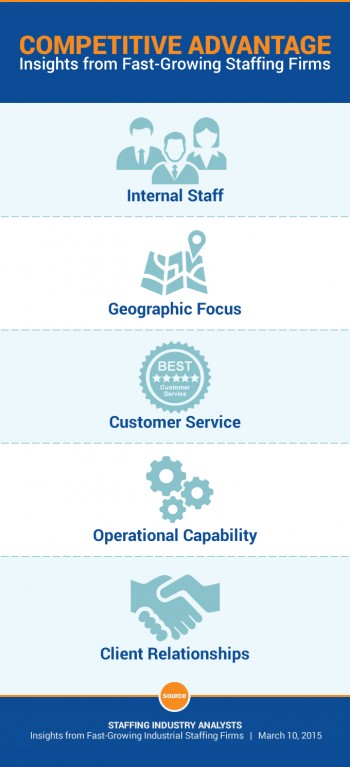 (1) Internal Staff
Selecting, training, and developing internal staff was the category most mentioned by the CEO's when describing what gives their firm a competitive edge that enables revenue growth. Several firms shared that their decision to launch new branch offices was prompted by rising internal staff talent that was ready to be promoted into branch manager positions.
(2) Geographic Focus
Strategic selection of geographic areas in which to operate was another competitive differentiator. Several firms mentioned their careful choice of only opening branches in areas with either above average general economic growth or areas where the outlook for industrial staffing was particularly positive. Also, several firms described how regional firms gain an edge due to their greater knowledge of local trends and local relationships.
(3) Customer Service
A focus on customer service, consultative sales, or customer satisfaction was also mentioned by several firms as a competitive differentiator. Several firms described superior customer service in terms of agility and responsiveness (either speed in filling orders or speed in launching a new office branch or on-site location). Several firms shared the value-add brought by their consultative sales approach where they helped clients set appropriate pay rates, understand compliance and costs, track turnover, and understand safety regulations. One firm mentioned the value of customer satisfaction data in demonstrating a track record of quality execution. Several firms mentioned their superior ability to serve large clients as a strategic differentiator.
(4) Operational capability
A superior capability in operations was also cited as a strategic focus that yielded a competitive advantage. Several firms mentioned superior performance in recruiting as an advantage. For example, using proprietary candidate assessments to identify superior candidates. Beyond recruiting, several firms mentioned their ability to monitor and improve worker safety levels at client premises.
(5) Client relationships
Several firms shared how their revenue growth was significantly driven by growth in their client's own operations. "We grew along with our customers," said several CEOs. As the U.S. economy improved, the cyclical manufacturing and logistics sectors grew robustly, presenting an opportunity for industrial staffing firms to grow volume at existing client locations as well as win new business as clients' opened additional locations. One CEO shared how close client relationships resulted in the client sharing growth forecasts that allowed the staffing firm to have capacity lined up in advance. The cyclical nature of the industries that industrial staffing firms service underscores the need for staffing firms to be able to ramp staffing up and down quickly as well as the need to partner with clients and win trust in order to receive additional business.
One way to increase the likelihood of capturing incremental business from an existing client is to become an exclusive supplier--either as a master supplier or a managed service provider (MSP)—which can result in setting up an on-site staffing operation at the client's facility. Several CEOs indicated positive trends regarding client interest in on-site staffing operations. One reported that the launch of its MSP business around five years ago was a significant driver of recent revenue growth (their MSP business is now 40% of their industrial staffing revenue via the addition of 35 on-site staffing operations.)
Staffing Industry Analysts
Staffing Industry Analysts is the global advisor on contingent work. Known for its independent and objective insights, the company's proprietary research, award-winning content, data, support tools, publications, and executive conferences provide a competitive edge to decision-makers who supply and buy temporary staffing. In addition to temporary staffing, Staffing Industry Analysts also covers related staffing sectors.
Staffing companies and their suppliers benefit from personalised intelligence, research, proprietary tools and advisory services from SIA's expert analysts that are included with Corporate Membership. Corporate members receive legal/regulatory updates, market forecasts, financial/operating benchmarks and briefings on key economic and financial indicators.
For additional information on Corporate Membership and to receive special HHMC membership offers read more here. Already a corporate member? Access full report here.