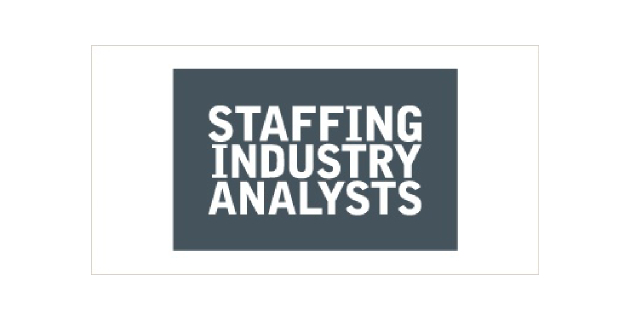 The first Staffing Industry Analysts Contingent Buyers Survey for the Asia/Pacific Region has been completed. A few examples of the research you will find include:
Contingent use projected to increase, especially in a few selected areas
In 2014, the average contingent share of respondents' workforce was 22%; buyers expect that share to rise to 25% by 2016 and 30% by 2024. Over the next ten years, the types of contingent labour likely to see the biggest increase are high‐skilled occupations, Statement of Work(SOW), offshore labour and outsourced functions; least likely to see increased usage are low‐skilled occupations. Overwhelmingly, the biggest concern buyers have with respect to contingent labour over the next ten years is skill shortage.
Why they use contingents?
Top factors motivating use of contingent work among buyers include variable workload levels, rapid growth, and lower risk with "try before you buy."
Strategies poised for growth
Out of 17 selected supplier management strategies, four strategies were determined to be most notable for potential future growth: 'including Contingent Workforce (CW) in strategic planning', trying out new suppliers, Recruitment Process Outsourcing and 'including SOW in CW management'. Additionally, although only 8% of buyers use online staffing currently, another 8% are considering using it in the next 2 years; that penetration for this relatively new service has occurred despite more than half of buyers being completely unaware of it.
Related: M&A in Asia Pacific – What is happening in 2015?
Best decision ever, but what has it done for me lately: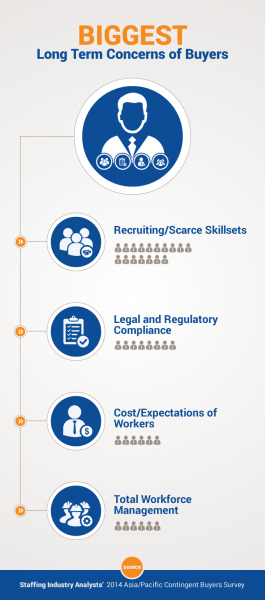 When asked to name their best strategic or tactical decision ever, buyers overwhelmingly said it was the adoption of Vendor Managed Services (VMS) and/or (Managed Service Provider) MSP. But when asked to rate their current VMS and MSP, buyers were just lukewarm. Still, they liked these services better than their primary staffing supplier or job board.
Worker quality is #1:
Overwhelmingly, buyers report 'worker quality' to be their top consideration when choosing a staffing supplier. Worker quality was the number one consideration for 38% of respondents, and 68% selected it as one of their top three considerations.
Staffing Industry Analysts Corporate Membership
Staffing Industry Analysts is the global advisor on contingent work. Known for its independent and objective insights, the company's proprietary research, award-winning content, data, support tools, publications, and executive conferences provide a competitive edge to decision-makers who supply and buy temporary staffing. In addition to temporary staffing, Staffing Industry Analysts also covers related staffing sectors.
Staffing companies and their suppliers benefit from personalised intelligence, research, proprietary tools and advisory services from SIA's expert analysts that are included with Corporate Membership. Corporate members receive legal/regulatory updates, market forecasts, financial/operating benchmarks and briefings on key economic and financial indicators.
For additional information on Corporate Membership and to receive special HHMC membership offers read more here. Already a corporate member? Access the full report here.