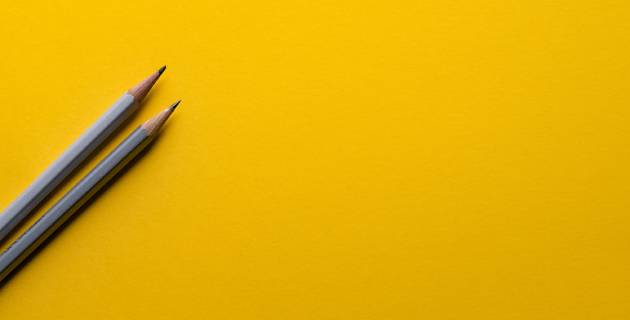 "All aspects of the staffing process are supported and influenced by technology and recent developments in technology … are presenting staffing firms with an increasingly complex environment to understand. Not only is technology transforming existing products, it is creating a bewildering array of new products to consider."
So begins Staffing Industry Analysts January 2020 publication "The Staffing Company Tech Stack".
This is an important document for owners and managers of recruitment organisations. Not only does it lay out the Tech Stack, as the title implies, but it provides a broader strategy framework that gives clarity and a balance across the front office, middle office and back office requirements needed in today's complex recruitment industry.
The Technology Stack
This document provides an understanding of the context and nature of the staffing company Tech Stack.
"Staffing executives not only need to keep up-to-date with the implications presented by new technologies, but also need to cope with broader technology challenges such as integration, data security and even issues relating to disaster recovery - business process continuity (DRBPC). Making the right choices will be instrumental in determining which staffing firms will be successful over the next decade."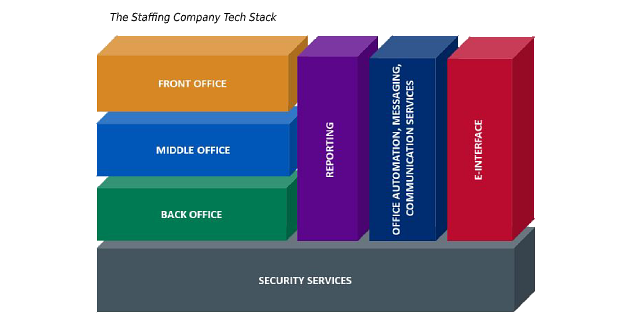 In addition to the much-discussed products that make up the applications of Front, Middle and Back office are a broader set of technologies that comprise:
A reporting solution
Office automation, messaging and communication services
E-Interface for web-based transactional and information services including the company
Content Management System (CMS) for company website and e-enablement
Security services
It is easy to look at this and surmise that it is logical, it is as expected. The devil is very much in the detail.
Changing Services: Any manager that has overseen the transformation of their recruitment business into contractor services, RPO, MSP, or has just had to integrate tightly with a VMS knows that new services come with a hefty technology burden right across the organisation. No recruitment agency can stand still in the services if offers, and technology will be on the agenda for every organisation.
New technology: there is a proliferation of new applications for managers to consider, and some of these have integrated Artificial Intelligence and Machine Learning (AI/ML) which may fundamentally impact the tech stack described here.
Interfaces and Data Flows: Technology Vendors highlight the benefits of their solution to a particular issue. It is the role of the organisation to understand how that fits into their unique environment and what benefits can be achieved. Without strong analysis, leadership and management from the recruitment agency the benefits of any technology initiative will be difficult to attain and may develop new compliance issues for the organisation. Auditable, automated interfaces between technology sets become critical in the industry's complex environment.
Integrated or Best of Breed: There are benefits from one vendor's integrated end-to-end solution, especially as it is the vendor's responsibility to build and maintain the integration. However, developing the corporate capability to trial and implement new technology sets can add an agility to your organisation to react to changing market conditions or client requirements.
A Broader Strategy Framework
When recruitment agency leaders are considering their future strategy, attention rarely moves far from the sales and delivery aspects of the front office. Without limiting the importance of the front office function, that is not sufficient for today's recruitment agency that ventures beyond perm-only recruitment.
Recruitment is now becoming as complex as many highly regulated industries and it is in the middle office that this needs to be managed. The legal and reputational implications of errors when hiring, administering or finalising an employee in Australia are business threatening.
Having this front-middle-back office framework described in the Tech Stack allows owners and managers to focus on what is critical to their business performance and sustainability.
Article 1 of 3
Article 2: The Rise of Middle Office in Recruitment
Article 3: Middle Office - A Structure for Compliance